3 HURRICANE SAFETY TIPS FOR HOMEOWNERS
3 HURRICANE SAFETY TIPS FOR HOMEOWNERS
by Mike Matthews
September 14, 2017
Did you know that natural disasters and weather-related events account for almost $24 billion worth of damage in the U.S. every year?
Some examples of this are the recent hurricanes and subsequent flooding that recently hit the United States.
As a Texan, watching hurricane Harvey unfold in Houston left me speechless and heartbroken — my thoughts go out to all those who were (and are still) affected.
After witnessing the catastrophic destruction of that hurricane and the following hurricanes that hit recently, I began thinking about what I would need to do if I were in the same position.
"How would I prepare for an event like this, and how can I protect my loved ones if I'm ever faced with a similar situation?" I asked myself.
I did some research and found a few useful tips I'd like to share that could help you and your family in the event of a natural disaster.
3 Hurricane Safety Tips for Homeowners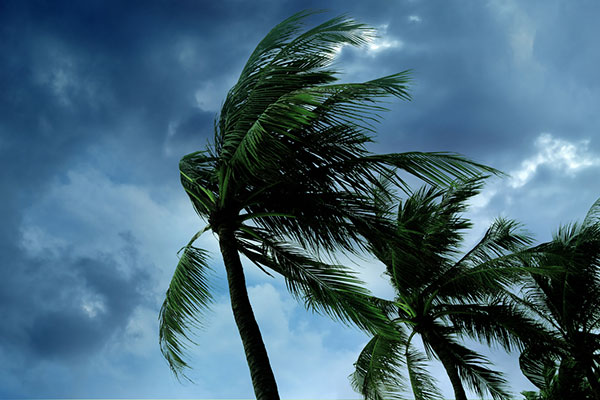 1. Stay Informed
Staying informed is crucial in order to stay one step ahead of a hurricane.
To help you stay informed, make sure to follow weather warnings on your television or online to monitor a potential hurricane. Watch for the following warnings:
Hurricane Watch. If a hurricane watch is in effect, this indicates that you could experience hurricane conditions within roughly 36 hours.
From here, it is important to start taking action and take any necessary protective measures to ensure your (and your family's) safety.
Hurricane Warning. If a hurricane warning is in effect, that means sustained winds of at least 74 mph are expected to hit your location within 24 hours.
As soon as this warning has been issued, you should already be finding a safe location to protect yourself during the upcoming storm.
Another vital part of taking protective actions before a hurricane is...
2. Have an Evacuation Plan
When a hurricane is severe enough, local officials may advise you to evacuate your home in order to keep you safe. Before any chaos or confusion ensues, make sure to have a plan for how you and your family can evacuate safely and effectively.
Here are a few general tips for planning your evacuation:
If you own a vehicle, make sure to keep at least half a tank of gas in it at all times in the event of a gas shortage.
Have a plan for your family to maintain communication as well as a meeting spot in case you are separated.
Keep a bag filled with food, water and medical supplies in the event of an emergency.
Map out a few different emergency spots that you can evacuate to such as a safety shelter or a relative's home in another city. Give yourself a few different options so you aren't stranded if you can't make it to a particular destination.
Plan out alternate travel routes in the event that you need to leave your area immediately and major roads are inundated (or even shut down).
If you live in an area that does not require evacuation and you are planning on staying put, make sure to...
3. Prepare Your Home for a Hurricane
In the event of a hurricane, you may not need to evacuate. If you are planning on staying in your home, however, here are a few things you can do to ensure your safety.
Keep your TV or radio on to get the latest weather-related updates and any potential emergency instructions.
Stay away from windows to avoid broken glass and other debris from injuring you or a family member.
Charge your cell phone well in advance so your battery does not die when you need it.
If possible, bring any loose outdoor objects (such as garbage bins, patio furniture, etc.) inside your home. This will prevent them from becoming dangerous projectiles during high winds.
Final Thoughts
As a part of the mortgage industry, I feel fortunate that I get to work for a company that's based around a community-centric mission — one that offers programs designed to help fund home repairs and rebuilding.
It was touching to see our communities rally together to help those in need. Many of our employees stepped up to help with Hurricane Harvey relief efforts, donating much-needed supplies and thousands of dollars for the people and pets impacted by the storm.
If you or someone you know has lost their home after a natural disaster, PrimeLending is here to help.
We have loan officers who live and work in many of these affected communities, and we're here to serve our neighbors and help them rebuild.
If you need assistance with rebuilding or buying a new home, contact us today to find out how we can help you move forward.
About the Author

Mike Matthews
Senior Vice President, Joint Venture Sales and Support
mmatthews@primelending.com
With over 22 years of experience in the Mortgage Finance Banking industry, Mike has earned a reputation for implementing growth, developing new markets, recruiting top talent, and providing an outstanding level of customer satisfaction and value. He has a proven track record of building strong teams with award-winning production levels in both the business-to-business, and business-to-consumer sectors. In his current role at PrimeLending, Mike is focused on growing and cultivating successful joint venture partnerships.
Mike's leadership philosophy centers on a commitment to service beyond expectations to customers, business partners and fellow employees. He is known for spearheading high impact initiatives that drive results and has a keen interest in cultivating talent and mentoring the next wave of leaders. In 2015, Mike launched PrimeLending University, an immersion program designed to accelerate the development of new loan officers.
Mike was born and raised in the Dallas area and holds a Bachelor of Arts degree in psychology from Texas Tech University. Building his mortgage expertise from the ground up, Mike started out as a top-producing loan officer. He later went on to manage P&L for large-scale mortgage operations, retail sales, call center management and online mortgage operations at several Fortune 500 companies before joining PrimeLending in 2013. Mike is known as an honest leader who built his success on planning, preparation, and continuous improvement.