3 PAIN POINTS OF THE PROSPECTIVE HOME BUYER (AND HOW YOU CAN SOLVE THEM)
3 PAIN POINTS OF THE PROSPECTIVE HOME BUYER (AND HOW YOU CAN SOLVE THEM)
by Mike Matthews
August 15, 2017
A good friend of mine just bought a new home last year with the help of PrimeLending branch manager Mark Raskin. One thing that really stood out to my friend wasn't just how warm and friendly Mark and his team were — their experience and ability to set the proper expectations made it so easy to buy a home, from start to finish.
That got me thinking about how challenging (and confusing) the home buying process can be for new homebuyers without proper help and guidance.
With that in mind, I'd like to go over a few pain points for potential buyers and what you can do to help them on their road to homeownership.
Pain Points of the Prospective Home Buyer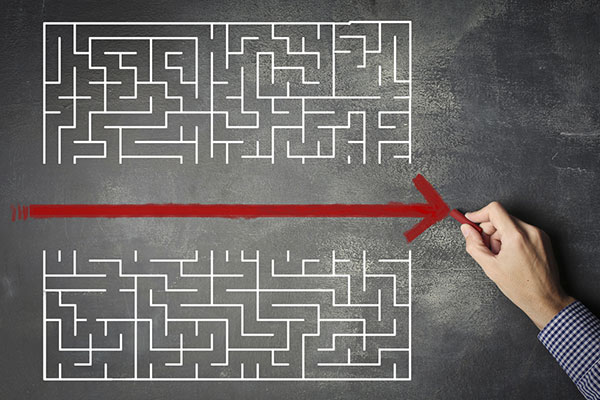 1. Paperwork
For many people, paperwork is a major hassle. Unfortunately, when it comes to buying a house, there's plenty of it, and it's something your clients probably don't want to deal with.
Initially, you can help potential buyers out by informing them about the specific documents and information they will need to get the home buying process started.
As you guide them through the paperwork, advise them to break up the process of reading and signing the documents into sections. By not trying to take care of it all in one sitting, they can avoid becoming overwhelmed.
Some documentation you'll want to remind them to have prepared, includes:
Current Pay Stubs
W2s
Federal Tax Returns
Bank Statements
Asset Statements
Copy of Current Driver's License
To help your clients out further, PrimeLending offers an Apply Now application tool. Share this app with your clients so they can quickly and securely sign loan documents from the convenience of their computer or smartphone (with the new eSign feature). Not only that, but they can then directly upload those documents to the mobile-friendly app, expediting the home loan process.
2. Affordability
Oftentimes, potential homebuyers are uncertain about how much they can afford to spend on a new home. While it's a good rule of thumb for buyers to look for homes that cost no more than three to five times their annual household income, financial circumstances vary from buyer to buyer.
Sometimes you may have to advise a client to downsize or compromise on the size, location or amenities of their ideal home in order to stay within their budget.
While this could be a deal breaker for some, offering this advice could help your client avoid a situation in which they cannot afford monthly payments on the "perfect" home.
Is your client unsure of how much they can spend? Share our PrimeLending Mortgage Calculator with them so they're able to see how much they can actually afford on a new home.
3. Credit
According to a report from the National Foundation for Credit Counseling, 36% of American adults don't think there's a reason to check their credit score. Not only that, but 8% are concerned credit checks are too expensive, while an additional 8% of people don't even know how to check their credit rating.
Based on those statistics, it seems that credit scores/reports could be a significant pain point for potential home buyers.
Before a buyer can purchase a home, however, they will need to know their credit rating, as this will determine their ability to qualify for a home loan.
Why is it so important?
While many lenders require a minimum credit score of 680, if a buyer's score dips below that, a lender may deny their request for a conventional mortgage loan.
Not only that, but their credit score could ultimately affect how much their loan costs.
To help a client through this common pain point, provide them with this key credit information:
To access their true credit score, they can visit www.myFICO.com.
For a copy of their most current credit report, they should visit www.AnnualCreditReport.com.
If they discover that their credit isn't in good shape, PrimeLending offers tips on how to improve their credit score.
If your clients have any further questions about their credit (or any other home loan topics), PrimeLending provides a wealth of information and resources that include Guides, Videos and Blogs that will help them through the home buying process.
Final Thoughts
While paperwork and concerns about credit and affordability are hard to shake off for many buyers, remind them to think about why they wanted to purchase a home in the first place.
Is it for more living space? A safer neighborhood for their family? More room for their pets to run around in? Whatever the reason is, let them know that all of the hassles can be worth it — especially if they focus on the positive life changes that can impact them once they purchase their home.
Have any questions about these and other homebuyer pain points? Contact us today! PrimeLending has the experience, technology, customer service and loan options to help people navigate the challenges of buying a home.
About the Author

Mike Matthews
Senior Vice President, Joint Venture Sales and Support
mmatthews@primelending.com
With over 22 years of experience in the Mortgage Finance Banking industry, Mike has earned a reputation for implementing growth, developing new markets, recruiting top talent, and providing an outstanding level of customer satisfaction and value. He has a proven track record of building strong teams with award-winning production levels in both the business-to-business, and business-to-consumer sectors. In his current role at PrimeLending, Mike is focused on growing and cultivating successful joint venture partnerships.
Mike's leadership philosophy centers on a commitment to service beyond expectations to customers, business partners and fellow employees. He is known for spearheading high impact initiatives that drive results and has a keen interest in cultivating talent and mentoring the next wave of leaders. In 2015, Mike launched PrimeLending University, an immersion program designed to accelerate the development of new loan officers.
Mike was born and raised in the Dallas area and holds a Bachelor of Arts degree in psychology from Texas Tech University. Building his mortgage expertise from the ground up, Mike started out as a top-producing loan officer. He later went on to manage P&L for large-scale mortgage operations, retail sales, call center management and online mortgage operations at several Fortune 500 companies before joining PrimeLending in 2013. Mike is known as an honest leader who built his success on planning, preparation, and continuous improvement.