3 WAYS TO MAXIMIZE YOUR BUSINESS WITH SOCIAL MEDIA
3 WAYS TO MAXIMIZE YOUR BUSINESS WITH SOCIAL MEDIA
by Diana Dilallo Tarzia
September 12, 2018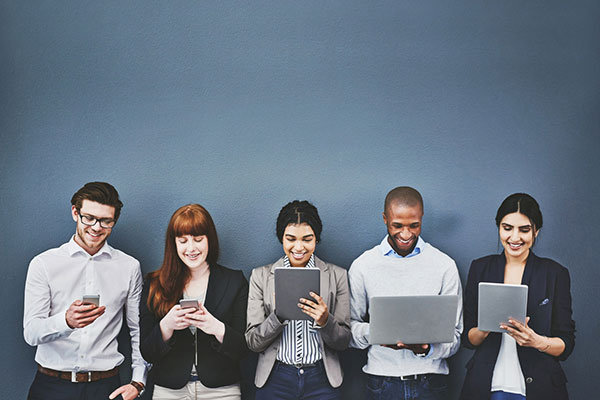 It's no secret that social media is one of the most essential parts of promoting and growing a business.
With over 3 billion active social media users worldwide, you're missing a ton of opportunities to reach potential customers if your social media game is not up to par.
At Jet HomeLoans, we use social media to:
Stay connected with existing customers
Build relationships with new customers
Enhance our overall brand image
Here are 3 keys ways to maximize your business with social media.
1. Have a Clear Strategy
According to one study, you're up to 40% more likely to accomplish a goal if you write and envision what that goal is. That's why it's important to figure out what your social media goals are.
Keep in mind, these goals should be in line with your current marketing strategy — the more specific, the better.
For example: One of our goals at Jet HomeLoans is to show we're a lender that cares about the communities we serve. So, we shared pictures and videos of a team event where we built homes for Habitat for Humanity (an organization that's near and dear to my heart).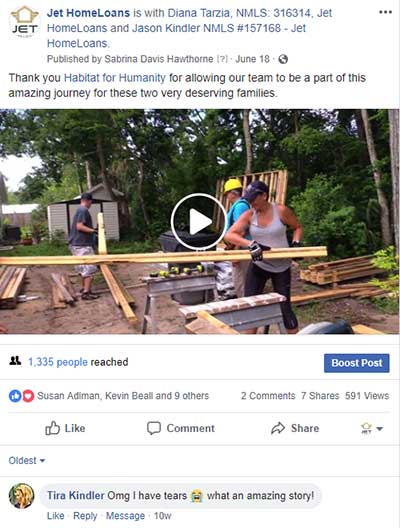 The result: We got a LOT of engagement, we're standing apart from our competitors and establishing ourselves as a lender who cares about our community.
Whatever your goals are, write them down, be specific and use social media as a tool to bring those goals to life.
2. Ask Co-Workers and Employees to Share Content
With how complex social media algorithms have become, it's incredibly important for others to share your content.
Why is that? People are 16 times more likely to read a post if it comes from a friend or family member over a company's business page.
One way the Jet HomeLoans team improves audience reach is by using a marketing program called On-Behalf-Of (OBO).
Some benefits of using OBO include:
Weekly automatic posts for simpler social engagement
More website traffic and a greater potential for leads and sales
An increase in brand awareness
Whether it's through OBO or a manual process, asking employees and co-workers to share your social media content is a win-win for everyone involved. Not only that, but it's vital if you want your business to grow.
3. Strengthen Your Social Proof
In the mortgage industry, reputation is everything.
The ability to build your brand's image and reputation is one of the most significant reasons to enhance your social media marketing.
Why is that? The more you develop your brand, the more trust there is between you and your customers.
2 simple tips to improve your social proof include:
1. Ask previous clients for a review of their experience with your company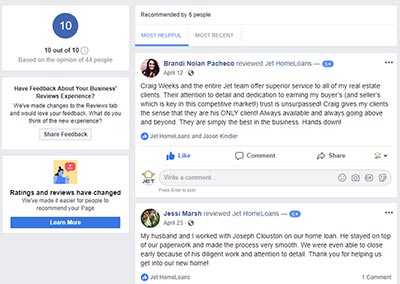 One major way to build trust is by encouraging and sharing positive reviews from past customers.
When a potential customer visits your social pages and sees glowing reviews from other customers, it encourages them to work with you.
In fact, one study shows that 80% of consumers are more likely to purchase from a business with positive reviews on their Facebook Page.
2. Share your team's achievements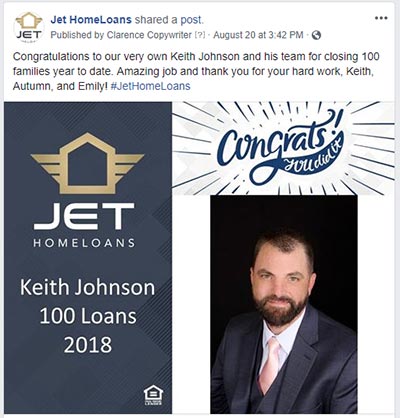 To further boost your social proof, make sure to celebrate and share your team's accomplishments.
Not only does this generate buzz for your brand, it's a fantastic way to show your company cares about culture, hard work and supporting each other.
Want to learn more about social proof? Click here for more info on gaining social proof for your business.
Final Thoughts
Overall, social media isn't just about the amount of likes and shares you can rack up — it's about building relationships. Developing a genuine relationship with your customers is important because it's the key to earning their trust and business.
Don't just cut and paste generic content if you want to see results, however. As with any marketing strategy, you need to be intentional and put in effort, commitment and creativity to keep your audience engaged.
Ready to reach more clients and help your business grow?
Use the social media tips above to help your company reach new heights of success!
About the Author

Diana Dilallo Tarzia
VP-Managing Director, Jet HomeLoans, Fernandina Beach, FL
diana.tarzia@jethl.com
Diana Tarzia was selected by builder and mortgage partners to lead as the VP-Managing Director for Jet HomeLoans. Jet HomeLoans is a PrimeLending affiliated business with 50+ employees. Diana is a nationally recognized leader in the mortgage industry with more than a decade of mortgage lending experience, previously with PrimeLending for several years before launching this PrimeLending joint venture.
A long-time supporter of Habitat for Humanity, Diana takes great joy in helping people in her community land their dream homes. With her penchant for providing personalized service and her extensive knowledge of the mortgage world, Diana and her hand-picked team of professionals support the joint venture's culture of service excellence and have put the company on a fast track for growth.
Not only was Diana recognized time and again as a top loan originator throughout her time at PrimeLending, she also received a Laurel Award for Top Outside Lender by the Northeast Florida Builders Association in 2017 and was listed in the 2017 Top Mortgage Originators List by Scotsman Guide. She was also named Best Mortgage Lender in Fernandina Beach, FL by the Scotsman Guide's Ask-A-Lender List, receiving the #1 placement for FHA, VA, USDA, First-time Homebuyers, Low Down Payment and Overall Best.
Diana grew up in Northeastern Florida and is a strong community leader in the area where she is now raising a family of her own.