INCREDIBLE BENEFITS OF DIGITIZING THE MORTGAGE PROCESS
INCREDIBLE BENEFITS OF DIGITIZING THE MORTGAGE PROCESS
by Aaron Anderson
February 22, 2018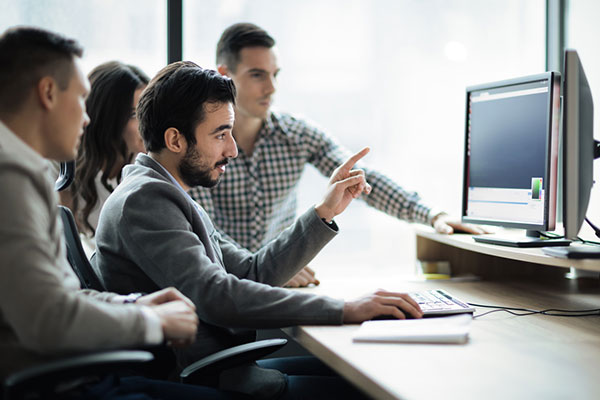 As a PrimeLending affiliated business, our mortgage team at Highland HomeLoans had the opportunity to attend PrimeLending's recent Sales Rally. Sales Rally is a yearly event that features helpful training workshops and inspirational speakers, and provides attendees with valuable insights about the mortgage industry.
One of the most memorable moments during the event was a digital mortgage presentation by Tim Elkins, EVP, Chief Information Officer. In his presentation, he discussed the importance of digitizing the mortgage process for customers.
Here are a few key points that really stood out to me.
Benefits of Digitizing the Mortgage Process
Expedite the Loan Application Process
Many people are heavily influenced by the media and the idea that there should be an "easy button" when it comes to mortgage services. As mortgage industry professionals, we know that it's not quite that simple.
The important thing is that we help our customers get as close as possible to that "easy button" with the digital advancements we have available.
A simple way to enhance the home buying experience is to provide buyers with a way to fill out their loan application online. At Highland HomeLoans, we encourage aspiring homebuyers to use our Apply Now application tool, which is accessible via smart phones and tablets. This allows clients to quickly and securely apply for a loan from their computer or smartphone.
Not only that, but applicants can directly upload documents to the app and use the eSign feature to sign loan documents from anywhere, anytime.
How can you help your clients even further? You can also...
Simplify Communication with Automated Emails
Sending out emails is a key part of keeping your customers informed throughout their home loan journey. However, it can be taxing for sales professionals and loan officers when they have to send and keep track of every email to clients and business associates who are involved in the mortgage process.
At Highland HomeLoans, we utilize Salesforce, a customer relationship management (CRM) tool that allows us to stay organized and connected with our customers.
With Salesforce, we're able to improve the way our clients experience the home loan process by sending automated emails with the information they need, right when they need it. Ultimately, this creates a more positive and rewarding experience for buyers. It also boosts productivity for loan officers by simplifying the way they communicate with customers.
Key Takeaways
With all the moving parts involved in the home buying process, it can be a challenging and time-consuming process for both customers and loan originators. In fact, in a survey of 2,241 homeowners, 42% stated that the mortgage process was "stressful," while 32% felt it was "complicated."
Because our world is so fast-paced and technologically advanced, it's crucial to expedite and improve the home buying experience for everyone involved. The most effective way to accomplish that is by embracing and adapting to the future of digital mortgage lending.
That entails:
Giving our customers the digital tools and resources they need for a more positive and streamlined home loan process
Fully utilizing social media channels to maximize the reach we have with current and potential homebuyers
Striving for the continual reinvention of ourselves to improve the way we connect with our clients and the world around us
As a PrimeLending business partner, we have access to all of their resources, including the technology to help us digitize the home loan process.
With the strong backing of a growing homebuilder in Highland Homes, and PrimeLending, a powerhouse mortgage company, we know our team is well-equipped to guide our clients throughout their homeownership journey.
Whether it's for a newly built home, a refinance, or any other home loan situation, we're confident we can help customers find the right loan to fit their needs.
About the Author
Aaron Anderson
Director of Production, Highland HomeLoans, Plano, TX
aaron.anderson@highlandhl.com
Aaron Anderson serves as the Director of Production for Highland HomeLoans. Highland HomeLoans is a PrimeLending and Highland Homes affiliated business with 50 employees located in Plano, Houston, Austin and San Antonio.
Aaron started his career in the mortgage industry in 2000 as a mortgage loan officer in a branch in Dallas, TX. In 2002, he was promoted to Sales Manager responsible for 3 teams of loan officers in a private label relationship between Countrywide and MBNA. In 2006, he was promoted to Senior Vice President responsible for portfolio retention driving $3.5B to $8.5B in annual mortgage volume with a staff of 150 to 300 loan officers. After 4 years in that role, Aaron spent 5 years in strategic sales focused on relationship deepening and production for bank employees and lending to affluent clients. Aaron joined PrimeLending in 2015 to lead the consumer direct, employee lending and relocation sales and processing teams. In 2016, he moved into his current role with Highland HomeLoans.
Aaron was a Circle of Excellence winner for production in 2003, 2004, 2005 and presenter in 2006 and 2007. He was selected for leadership development programs in 2005 and 2010. In 2012 and 2013 he received awards for strategy development and performance. He was awarded to Chairman's club in 2016 and 2017.
He is a graduate from the University of Oklahoma and lives in Plano, TX with his wife and two children.